It took me awhile, but I finally have had the opportunity to watch
Eternal Sunshine on a Spotless Mind
. Despite everyone telling me that I would love the movie, I came away from the movie fairly unimpressed.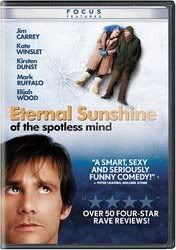 Eternal Sunshine on a Spotless Mind
Charlie Kaufman returns with another convoluted screenplay following the likes of
Being John Malkovich
and
Adaptation
to try to create another fascinating way to look at the world, or rather, what the world could be. Kaufman is a very talented and intelligent writer. Actually, I think that of all the major film screenwriters, Kaufman has the strongest ability to capture the emotions of a character through their dialogue. Kaufman succeeds in creating a world where the viewer is able to understand the emotional gurney his characters are attached to. However, the process of doing so includes far too much needless suffering. Suffering through convoluted conversations. Suffering through pointless emotional outbursts. Suffering through a script that shows signs that Kaufman has become all too aware of his ability.
The plot of the movie is nothing less than delightful. The movie opens to that place in a relationship where both parties are too comfortable with each other and not able to overlook the annoying habits, the character flaws, and other problems in the relationship that stick out. The movie then turns to Jim Carrey trying to understand, and fight against, the fact that someone he loves wanted all her memories of him erased. The raw emotion of this is that most people have been in the place of either wanting to just forget someone completely or erase the pain caused by a failed relationship or both. The genius of the idea that a doctor is able to do this through neurological advances is a great plot device. It is one, however, that Kaufman lost control of in his writing.
The actors do a fine job. Carrey is restrained and emotionally appropriate in his role as the scorned lover who learns that even painful memories are better than no memories at all. While Kate Winslet does an even better job at masking her accent. Most impressive in this movie would be Mark Ruffalo who proves, yet again, that he's one of the most talented actors in Hollywood. In the end, the careful precision of the actors was not enough to make Eternal Sunshine as great a movie as it could have been.
A surprisingly poignant love story is avoidably distant because Kaufman allowed the script to run away from him. Instead of really drawing the audience into the world, and minds, of these fascinating characters, Kaufman somehow makes the script so obtuse that most will find this movie a little too inaccessible. Overall, it is worth watching because the of the acting and plot but the greatness that could have been is nothing but a missed opportunity.