The last time
I talked about some of the music I was enjoying
it seemed to be well received by at least one person, so I am going to do it again.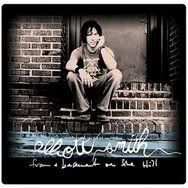 Elliott Smith
Smith's music bleeds a certain sadness. His unfortunate death was on one hand unexpected while on the other hand nothing too surprising. The music he writes is nothing less than beautiful tragedy. Through all the sadness, all the despair, and the anger in the music there still exists a certain beauty that fills your soul as you listen to the chords strummed and vocals falling over the microphone.
The Pitchfork review put it better than I can when they described this album,
Like nearly all of Smith's records, From a Basement covers his despair in sweet, perky, folk-pop kisses; and yet the album is still the saddest thing you'll hear all year. Smith's gloom may be romanticized into gold, but what's ultimately most harrowing about his unhappiness is its nastiness-- and that same gritty, uncompromising accuracy is also what makes his records so impossibly urgent, so uncomfortable and desperate. Reality is splattered all over From a Basement on the Hill
Listening to the songs takes me back to all the times in my life where I've felt surrounded by pain; times when I felt like there was no reason to continue on. It also reminds me of what the world has lost which is harrowing. Elliott Smith was an integral part of what made
Good Will Hunting
so beautiful, his individual cds changed many lives, and his kind words at concerts brought untold joy into lives filled with despair. A year ago that ended because somewhere along the way Smith didn't receive the same reminder of how important we are to other people. He filled so many lives with joy found through his painful, heartwrenching music all while never finding the joy for his own life.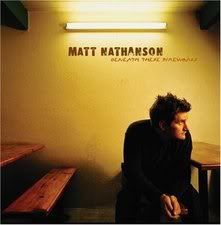 Matt Nathanson
I don't know what to say about this album besides he's a very talented singer-song writer. I would describe his sound as a mix between David Gray and Counting Crows. I found a copy of one of his concerts and loved his personality. He seems like a really fun guy. His songs are upbeat and often funny. Suspended and Bent are a couple of really good songs. However, I like that this album just flows together so well. It's not a collection of singles that would make him a mainstream hit.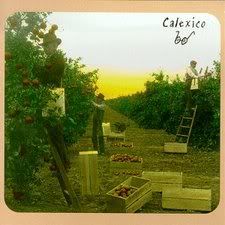 Calexico
This band is the fucking shit! This albums isn't as full as some of the more recent albums, but I still love it for the grittiness. Their sound mixes all the greatness of folk, country, and those fun spanish love songs that you hear at your favorite mexican food restaurant. It's great music.