I wish that I could say there was some sort of a battle today when
Pittsburgh ended the 21 win streak of the Patriots
, but it was clearly a demolition of a giant.
The rookie, Roethlisberger, took on Brady and won. I'm sure there are many who are surprised, but I'm not. I predicted that New England would fall to the spectacular offense of Pittsburgh.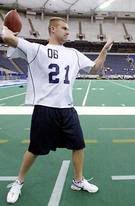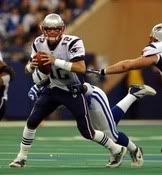 Today he took down Tom Brady, but this wasn't the first well-known QB Roethlisberger has taken on.
Rather, this past draft there was
a rivalry that developed
between Roethlisberger and Eli Manning over who would secure the higher draft.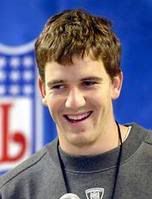 Roethlisberger doesn't come from the QB background of Eli Manning. He didn't start playing the QB position until his senior year of high school. He went to Miami of Ohio for his undergrad football career where he played through his junior year.
As it turned out, Manning was drafted ahead of Roethlisberger by the San Diego Chargers. Part of what NFL experts claimed was that Manning was the more polished QB. He was considered, by many, to be less of a risk, although, both players were thought to be safe picks. Subsequently, Eli Manning was traded to the New York Giants where he was expected to learn from Kurt Warner for a few weeks and then ease into the role of head QB.
But was there something more to San Diego taking Eli Manning with the first pick? In 1998 Peyton Manning was considered less polished, but potentially a stronger player than Ryan Leaf. Peyton was picked 1st by Indiana while Ryan Leaf was picked second by the San Diego Chargers.
Does anyone know what has happened to Leaf? I'm sure you could look it up and figure out what he's doing, but the fact is being polished in college doesn't guarantee you'll be a great professional quarterback. Peyton Manning won that contest in both the first draft and being the more successful QB.
Now we see a similar situation emerging in that the less polished, or riskier, QB is taking off. Today we see that while Roethlisberger might have lost the initial fight with Eli Manning, he was talented enough to take down Tom Brady. Unfortunately, Eli Manning has not had the opportunity to take the role as head QB for the Giants. Perhaps when the Pittsburgh meets the Giants on December 18th, the two young QBs will be able to square off against each other to settle the dispute.